Product view
The weldcap® - an automatic welding cap, that combines the comforts of a leisure hat with the advantages of a full welding helmet. Predestined for users whose area of ​​responsibility includes not only welding but also other metalworking tasks. You are performing changing working steps where the welding protection must be quickly put on and taken off? Then you will be enthusiastic about our weldcap® line .
Shade level 3 / 9 to 12
2.7 times the field of view of a standard industry welding helmet
super light and super comfortable
simply cool
The weldcap bump RCB 3/9-12
On demand of variuous professional welders: the weldcap® new with integriated bump cap according to EN812/A1.
The revolutionary optrel weldcap® RC 3/9-12, that combines the comfort of a baseball cap with the advantages of an automated welding helmet (ADF), is now available in a new extended version: the optrel weldcap® bump RCB 3/9-12.
Where at normal ADFs the head is only protected in parts, the weldcap® bump now offers a complete protection of the upper head part against painful strikes. Even more, the bump cap gives the weldcap an additional stability and a safety feeling like a full face helmet to the welder, without getting noticeably heavier.
The easy to remove textile part is made from washable and non-flammable material. You can buy it separately, which means you can turn any existing weldcap® into a weldcap® bump and vice-versa.
Dr. Ramon Hofer Kraner – Head of R&D: "With the weldcap® bump we extended the scope of application of the weldcap® measurably. With the bump cap it's also fitting welders' needs about higher safety standards".
On the occasion of the leading international Welding & Cutting trade fair in Essen, optrel is presenting the new optrel weldcap® to the world. Since the optrel weldcap® is neither a welding helmet nor a welding mask, optrel had to invent beside the product, also a new name for the product category.
Hence the name says it all, because the weldcap® stands for an auto-darkening welder's cap that brings together the comfort of a casual cap and the advantages of a full welding helmet. The heart of this innovative product is the optical unit featuring a well-defined nose cut out. Thereby the visual unit is placed closer to the eyes compared to traditional welding helmets, which helps to increase the welder's line of sight by 2.7 times!
Moreover, because of this, the weight shifts closer to the centre of gravity so that the weldcap® is excellently counterbalanced and the load on the back of the welder's neck is significantly reduced. The optrel weldcap® weighs only 390 grams, so it is an absolutely lightweight. It relieves the welder of about 200 kg load capacity over a year, when compared to conventional welding helmets.
Darkening levels from 9 to 12 cover the majority of welding applications and with a protection level 3 in its general mode, the welder has a bright an well-lit view of the work-place This feature predestinates the optrel weldcap® for grinding jobs as well. The optrel weldcap® is also completely hygienic. The textile part is robust and easily detachable, and is made of easily-washable, flame retarded fabric.
Shade Level
3/9-12
Field of vision
+270%
Grind Mode
Lightweight
Fields of Application
Gas Welding
TIG Welding (GTAW)
Micro Plasma Arc Welding
MIG/MAG (GMAW)
Elektrode Welding (Stick Welding, SMAW)
Spot welding
Variants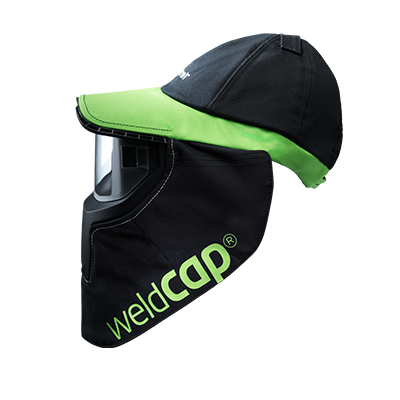 1008.000
weldcap RC 3/9-12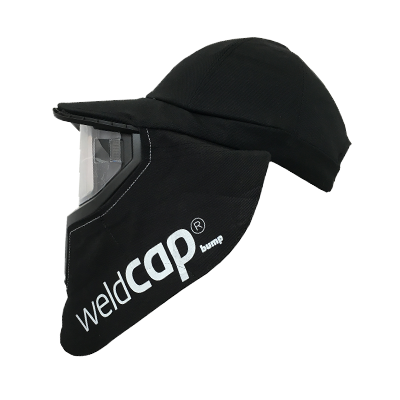 1008.001
weldcap bump RC 3/9-12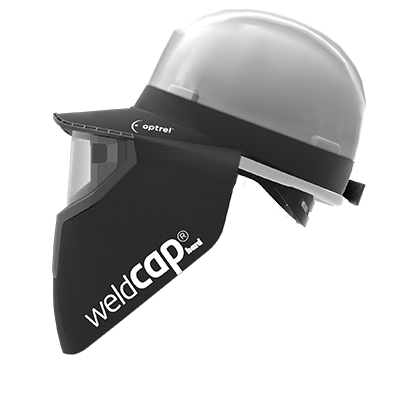 1008.002
weldcap hard RC 3/9-12
4600.100
Ready to weld package weldcap + swiss air respiratory protection system complete with control panel, incl. comfort half mask: consisting of half mask and hose system incl. head and neck strap, blower unit, shoulder harness, charger, storage bag
| Article Nr. | Description | Units | Image |
| --- | --- | --- | --- |
| 5000.040 | Inside cover lens for weldCAP | 5 | |
| 5000.260 | Front cover lens for weldCAP | 5 | |
| 5002.740 | weldcap STARTER KIT:2xFront cover lens, 1xInside cover lens, 1xNose pad, 1 set of 2 batteries | 1 | |
| 5002.800 | weldcap standard replacement textile | 1 | |
| 5002.810 | weldcap bump replacement textile | 1 | |
| 5002.820 | weldcap hard replacement textile | 1 | |
| 5012.800 | Replacement cartridge weldcap RC 3/9-12 | 1 | |
| 5002.700 | Nosepad for weldcap | 1 | |
| 5002.720 | Battery cover weldcap | 1 | |
| 8000.100 | Helmet backpack - black/green | 1 | |
| 5002.900 | parking buddy for weldcap and optrel welding helmets | 1 |   |
Technical Data
Power supply
2 pcs LI-batteries 3V exchangeable (CR2032)
No need to switch on-off.
Viewing area
Viewing angle downwards: +37°
Viewing angle sidewards: +25°
Operating time batteries
1000 h
Sensors
Wide angle detection sensor
Light transmittance
Ultraviolet/infrared protection (maximum at any shade setting)
Visible range activated shade level DIN 9-12
Visible range not activated shade level DIN 3
Switching time
Light to dark at room temperature: 0.16 ms
Light to dark at 55°C / 131°F: 0.110 ms
Dark to light
0.3s
Classification EN 379
Optical class = 1
Scattered light = 1
Homogenity = 2
Angular dependence = 2
Classification EN 175
F (45m/s impact resistance)
Shape stability
Welding mask up to 180°C / 356°F
Front cover lens up to 135°C / 275°F
Grinding mode
Shade level DIN 3
Material
Rigid plastic face shield and flame retardent textile according to EN ISO 11611 (Class 1, A1+ A2)
Operation temperature
-10°C to +60°C / 14°F to 158°F
Storage temperature
-20°C to +80°C / -4°F to 176°F
Weight Helmet cpl.
approx. 400g
Warranty
from date of purchase: 2 years for manufacturing and material defects (battery and textile cap excluded)
Documents
Further information
For further information pls refer to your optrel partner next to you or to our customer service.